Game Watch - Illinois Season Opener vs. Murry State
New Head Coach Lovie Smith
Illinois Football Fans!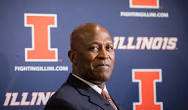 There's a new coach in town! Former Head Coach of the Chicago Bears, Lovie Smith, is now our coach and leading the Fighting Illini this season. The Tucson Illini Club is having a game watch this Saturday to cheer our team on vs. Murray State in the opening game of the 2016-2017 season.
Come and join us this Saturday. All Tucson Illini and friends are welcome!

Date: Saturday September 3, 2016
Time: 12:30pm to 3:30 pm
Place: Fox and Hound - Foothills Mall, 7625 N LaCholla Blvd., Tucson.


We will provide the opening round of appetizers. Just pay for what you eat and drink after that.
GO ILLINI!!!!!!