Board of Directors
2018 Officers and Board of Directors
These are our current Officers and Board of Directors. If you have interest in serving on the board with us please contact us.
We always welcome new faces and fresh ideas.
OFFICERS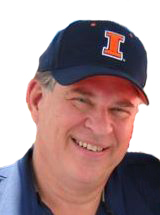 President - Mike Bayers
Hometown: Park Ridge, Illinois
High School: Maine South
Major(s) at U of I: BS Electrical Engineering
Favorite class or instructor: Railroad Engineering - W.W. Hay
Other memories: Met my wife last semester of my senior year. Dorm life on the third floor of Scott Hall (Da Ritz) with music blaring in the courtyard. The aroma of south farms. Streakers on the Quad. Fall Football. The Chief. The Red Lion.
Work history: GTE Automatic Electric – Engineer, Digital Equipment Corporation – Sales Manager, Apollo Computer – Sales Manager, Hewlett Packard – Area Sales Manager, Bay Networks – National Account Manager, Cadence Design Systems – Major Accounts Manager, Entropia – Regional Sales Director.
Present: Canyon Computer Services of Tucson - Owner
Spouse's Name: Patti Bayers (U of I – BS Biology)
Children: Aimee (ISU - Marketing) and Jonathan (U of I – BS Computer Science)
Hobbies: Technology, Golf, Hiking, Cooking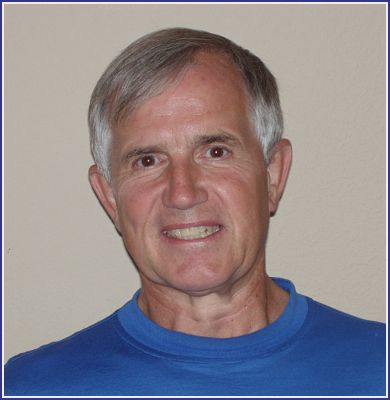 Vice-President - John Johnson
High School: Clarence (NY) Central
Major(s) at U of I: Engineering Physics (BS '64), Physic (MS '65)
Favorite class or instructor: Solid State Physics -- John Bardeen
Other memories: '64 Rose Bowl, Kennedy visit in '60, Goldwater Whistle Stop ' 64, first married residence above old McBride's drug store on Lincoln Avenue, beating UCLA 110-87 -- five great years!!
Work history: United States Steel -- International Manufacturing and Technical Assistance -- Gary Works
Indiana General Magnet Products
I G Technologies
Lake Station Community Presbyterian Church
First Presbyterian Church, Merrillville
Valparaiso University School of Business
Highlands Presbyterian Church
Spouses Name: Patricia Coyne-Johnson
Alumni Other College: University of Chicago (JD '69)
McCormick Theological Seminary (M.Div. 97)
Hobbies: Golf, Weigh-lifting, Opera, Reading, Travel
I bleed orange and blue, have served on Visitors Committee of College of Engineering, am in second term as a member of Foundation, and was a Alumni Homecoming honoree in '98, one of my greatest thrills.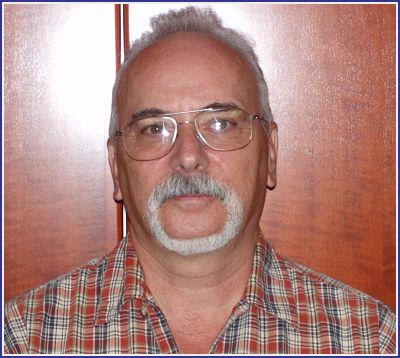 Secretary - Martin Kissil
Hometown: Bronx, New York
High School: Dewitt Clinton H.S.
Major(s) at U of I: Physiology/Cell Biology
Work history: University of Illinois (Urbana, IL), 1979-1983
Amersham Corporation (Arlington Heights, IL), 1983-89
R&D Systems, Inc. (Minneapolis, MN), 1989-2003
Spouses Name: Michèle Kissil
Alumni or other college? University of Illinois & University of Illinois Medical Ctr.
Children: Marie and Meagan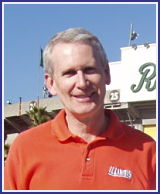 Treasurer - Jerry Heintze
Hometown: Springfield, IL
High School: Lanphier
Major at U of I: B.S. Business Administration (Marketing) 1976
Favorite class or instructor: Jagdish Sheth: Consumer Behavior
Other memories: Going to Basketball & Football games even though we were not very good. Great concerts, Second Chance, Murphy's, Record Service.
Memories after graduating: Watching the Football team go undefeated in October 1983 on their way to the Rose Bowl.
Work history: Manager/Owner Zorba's Restaurant, Champaign, IL 1976 – 1997
Owner/Operator: Centre Café, Tucson Arizona 1997 – 2002
Equity Mortgage Planner: Tucson, AZ 2001 - 2010
Director of kitchen operations and IT, Christ Community Church
Spouses Name: Barbara Heintze
Children: Ellie Heintze, Graduate NAU 2006, Masters NAU 2008, Doctor of Naturopathic Medicine and Masters Degree of Acupuncture
Hobbies: Softball, Running, sports watching
---
BOARD MEMBERS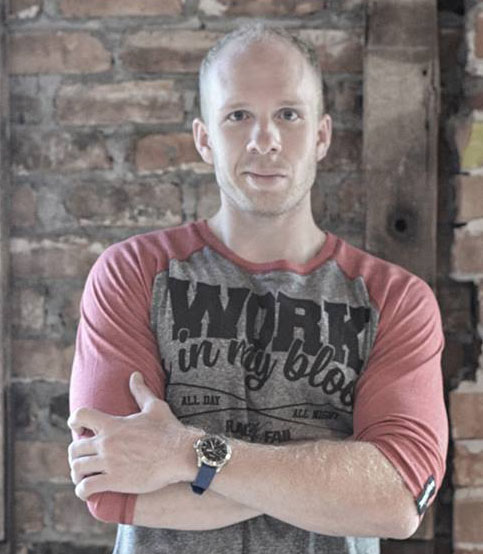 Paul Holze
Hometown: Dunlap, Illinois
High School: Dunlap High School
Major(s) at U of I: Animal Sciences Favorite class or instructor: Molecular Biology
Other memories: Running Club Kramerica - a Club About Nothing
Work history: Director of Groundwork Promotions, Filmmaker at Groundwork Global Media
Hobbies: Running, Social Media, Playing Cards, Watching Movies, Fishing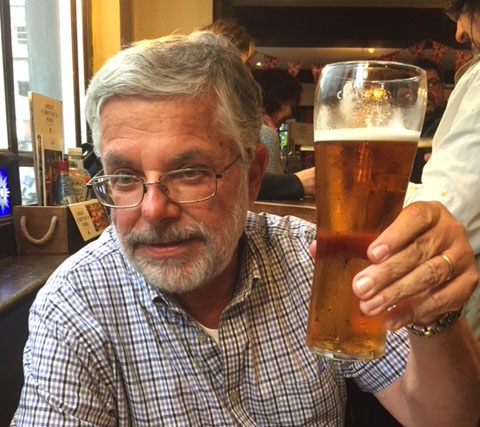 Frank Ratey
Hometown: North Chicago, IL (not Chicago)
High School: North Chicago Community High School
Major(s) at U of I: Political Science, History
Favorite class or instructor: American Political Philosophy
Other memories: Being the late Sixties and early Seventies, it was political activism and protests of the time. There was a great deal of energy and the dream of a better world at that time.
Work history: VISTA volunteer for 2 years in Boston and Arizona. Twenty years of social work experience primarily with children and families in Child Protective Service in Arizona and Colorado. Teaching Government, Economics and History was my last and most rewarding career. I am semi-retired; I substitute on a regular basis.
Spouse's Name: Beth
Alumni or other college? Beth attended college in her hometown, Cincinnati.
Children: We have two adult sons, both still living in Tucson, but no grandkids.
Hobbies: Volunteer guide at the AZ Historical Society Museum and serve as Secretary of their docent council plus reading various histories keeps me busy.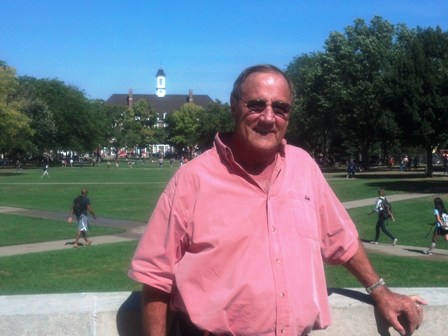 Jerry Carbonari
Hometown: Chicago
High School: Bogan H.S. in Chicago
Major at U of I: Speech & Communications
Memories: I had a football schlorship to the University of Illinois and played football for all four years
Work History: Upon graduation I went to work for A.B. Dick Co., a Chicago based firm. My first position with them was in New York City. I was promoted and went to Sales Training in Chicago. I met my wife, Kay, while in Chicago, we knew each other in college but didn't date until after college. We got married in 1971 and moved to Dallas. I worked at A.B. Dick regional office. I moved to Alambama to run one of A.B. Dicks sales office. I then ran their offices in New Haven Ct. and Detroit Michigan. In 1979 I opened my own business in Tucson, Az. My Company name was A.B. Dick Products of Tucson. While in Tucson I got involved with the Fiesta Bowl and served on there board of directors in Phoenix for many years. I am still active with the Fiesta Bowl as a life director. I truly enjoy college athletics. I was also very involved with the Better Business Bureau, as well as the Arizona Small Business Association. Over the years I have been very active in the Tucson business community.
We had a very successful business here until I sold it in 2012. I am now retired and enjoying traveling and help with my 5 grandchildren here in Tucson.
Spouse's Name: Kay


LEE J REINEBERG IV (CHIP)
Hometown: Champaign
High School: Champaign Central
Major at U of I Industrial Psychology Minor Sociology/Math
Work History: University of Chicago Hospitals, Rush University Medical Center, Lutheran General, Sargent & Lundy, The Chicago Stock Exchange, Trans Union, Prairie Packaging/Pactiv, Loyola University Medical Center. Various positions held in Human Resources including Vice President. HR at Prairie Packaging.
Spouse: Audrey Jane Reineberg
College: Springfield College, Springfield Massachusetts - M.ED. Industrial Psychology
Children: Matthew, Colin
Hobbies: Golf, Wine Collecting, Cooking, Fine Dining, Music (collecting & playing)
Other: I am extremely happy to be in service to my Alma Mater

Hometown: Moline, Illinois
High School: Moline High School, 1959
Major at U of I: Journalism
Favorite class or instructor: Dr. Starr, Roman History
Other memories: A load of intramural fraternity sports
Work history: Began as writer on suburban weekly newspaper; went to trade magazine in Madison, Wisconsin; served three years as officer in U.S. Army, including tour in Vietnam; went into public relations with Western Electric, International Harvester and Loyola U. of Chicago; then public relations with Evangelical Health Systems (now Advocate Health Systems), and ended as senior v.p. with Ancilla Systems, Hobart, Indiana
Spouse's Name: Anne Jagnow
Alumni or other college? Anne graduated U. of Wisconsin, 1967
Children: Lauren (40) and William (35)
Hobbies: Golf, writing and model railroading. Very interested in U. of I and its Tucson alumni association.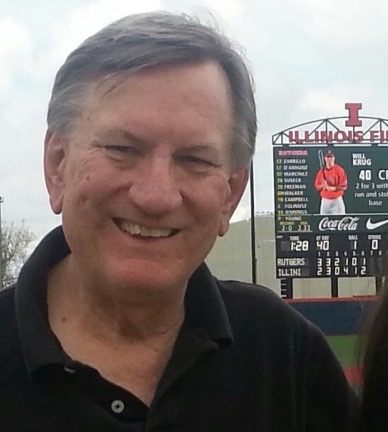 David Jern
Hometown: Aurora, IL
High School: Palatine Township High School
Major(s) at U of I: B.S Communications 1971
Favorite class or instructor: Broadcasting; News Reporting, Henry Lippold, Professor
Major Memories: Moratorium March to West Side Park, October 1969
Kent State Protests, May 1970
Student News Anchor/Reporter: WILL - TV 1970; 1971
Work history: Reporter: Daily Herald Sales and Publishing Positions with Pioneer Press, McGraw-Hill Publishing, Scientific American, The Globe and Mail of Canada, Crain Communications, and The American Society of Plumbing Engineers
Children: Kelsey Jern B.S. Media UIUC 2018
Hobbies: Golf, Hiking, Reading (fiction; history), Movies, Travel

JESSICA (BROWN) WALKER
Hometown: Buffalo, New York
High School: Williamsville South High School
Major at U of I: Speech and Hearing Science
Favorite Class or Instructor: Language and the Brain
Other Memories: Student Alumni Ambassadors
Work History: Assistant Professor – University of Arizona, Assistant Professor – University of Minnesota
Other Universities Attended: University of Nebraska – Lincoln, M.S. and Ph.D.
Spouse: Aaron Walker
Hobbies: Food and Wine, sports, Spending time outdoors with my dog.