2017 Tucson Illini Club Membership Drive
Happy New Year!
Another year has come and gone, and it was another very successful year for the Tucson Illini Club. Were you a part of it? If you have not been a member in the past, I would like to invite you to join the Club this year. For those of you who have been members, we appreciate, as always, your membership and involvement in the various events that we sponsor. Annual dues continue to be only $25 for individuals and families, and helps us with event related costs, charitable contributions, mailings, etc. Dues paying members also receive discounts on certain events throughout the year.
We have been very active here in Tucson for many years and have had great event participation from many of you throughout the year. The number of events and the quality of our events are not only appreciated by our fellow Illini alums, but also caught the attention of the University of Illinois Alumni Association headquartered in Champaign by awarding our Tucson Club at the end of 2015 with the honor of 'Outstanding Alumni Club'. It was a wonderful recognition that came after evaluating over 50 clubs in the United States!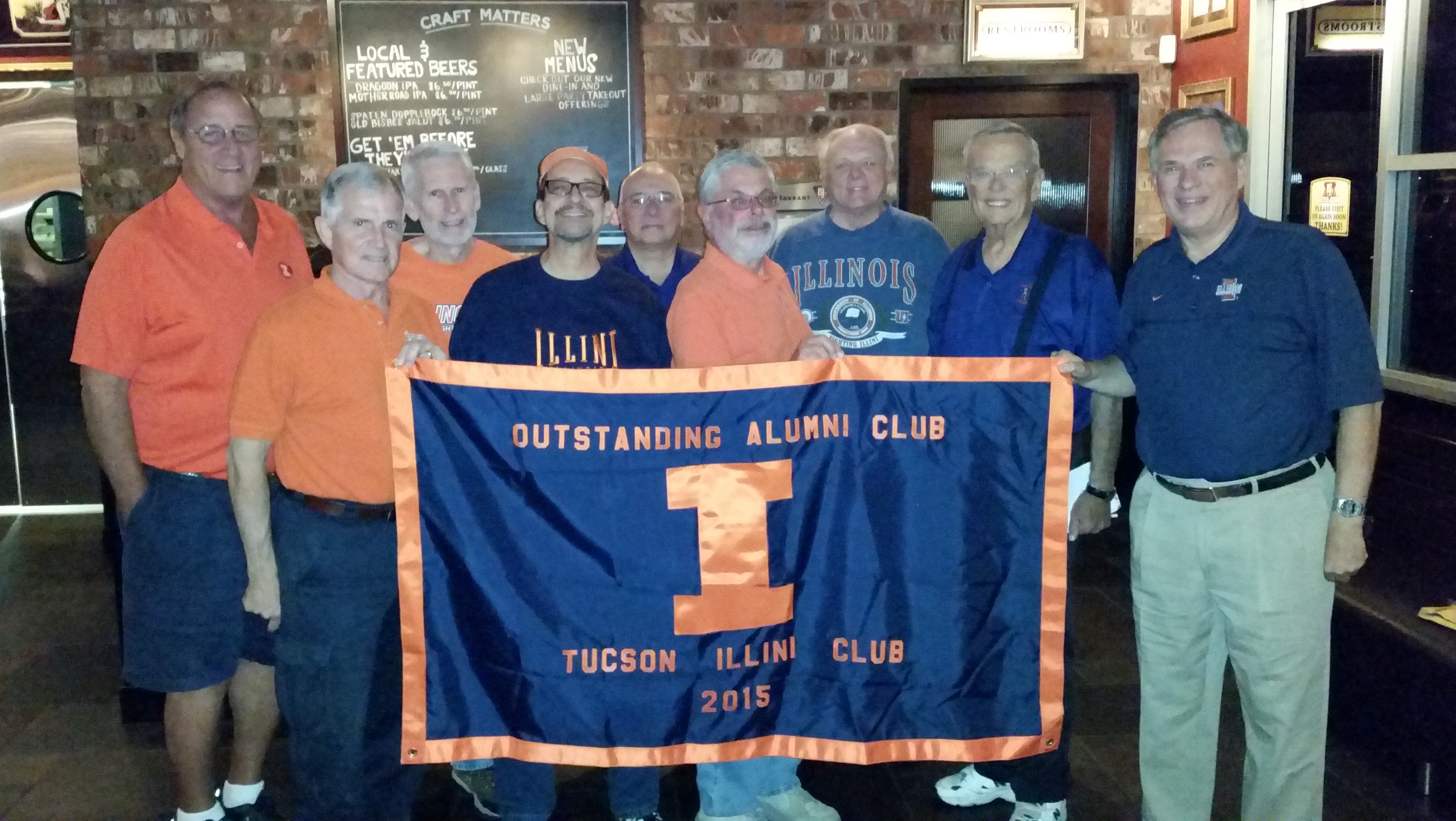 So, what did we do the past year?
The Tucson Illini Club hosted 13 events! As you can see, we tried to provide a lot of variety. Something for everyone! All our events are fun, informal and a great way chat about the one thing we all have in common - The University of Illinois.
Gaslight Theatre (Jan)
Dining Illini – 1702 Beer (Feb), Brother Johns (Jul) and Sir Veza's (Oct)
Pima Air and Space Museum Guided Tour (Mar)
2nd Annual Golf Outing (Apr)
Rocco's Pizza (May)
Annual Tucson B1G Ten Charity Event (Aug)
Game Watches (Sep and Oct)
Arizona State Museum (Oct)
Wine Tastes – The Living Room (Apr) and NoRTH Italia Restaurants (Nov)
The Club also gives back to the community as we made charitable donations to the Big Brothers Big Sisters of Tucson, Youths On Their Own and the Arizona Historical Museum.
2017 Plans…
Each year we evaluate the success of our past year's events. So, much of what we did last year will be repeated again this year with some new ideas we are working on. Here's what is in store for 2017…
Gaslight Theatre (Feb 12 – Sunday Matinee)
Titan Missile Museum (Mar 4)
3rd Annual Golf Outing (Mar/Apr)
Rocco's Pizza (May 25th)
Annual Tucson B1G Ten Charity Event (Aug)
Game Watches (Sep and Oct)
Wine Tastes x2 (TBD)
Dining Illini x2 (TBD)
Still haven't found something you like? We are always on the hunt for new event ideas so let us know if there is something you think would be of interest to other Tucson Illini and we will try to put it into our event calendar. Just replay to this email.
Board of Directors
Your Club's current Board of Directors consists of 10 dedicated Illini who volunteer their time to meet, plan and organize events throughout the year. The Board meets just about every month and is diverse - male and female, young and not so young. The result is a broad range of ideas and energy. Our sole purpose is to bring Illini Alums in the Tucson area together for a fun time.


On a sad note, we lost one of our Board Members last year – Mark Blanchard. He was a huge Illin fan, often represented our Club at the annual Leadership Conference in Champaign and was an important contributor during our Board meetings. He will be deeply missed.

Social Media – Just a reminder that we are on facebook as well as Twitter. If you haven't been following us there or given us 'likes', please do.
Membership - We are very appreciative and thankful for the response we've received thus far from the Tucson area Illini who have already made their 2017 dues contribution. You may or may not have been one of the contributors, but if you are, THANK YOU!!! If you are unsure about your membership status, go to tucson.illiniclub.org and log in. You will see your membership status on the upper left side. Or, you can reply to this email and we'll let you know.
Membership for 2017 is still only $25. (Click Here) to pay by Credit Card via PayPal. If you prefer to pay by mail, make your check payable to Tucson Illini Club and send to: Jerry Heintze - Treasurer, 7301 Rocky Creek Place, Tucson, AZ 85750 (Phone: 520.975.7322).
For those of you who apply for an Illini Credit Card (which helps the Tucson Illini Club), your application for the card counts toward dues for 2017.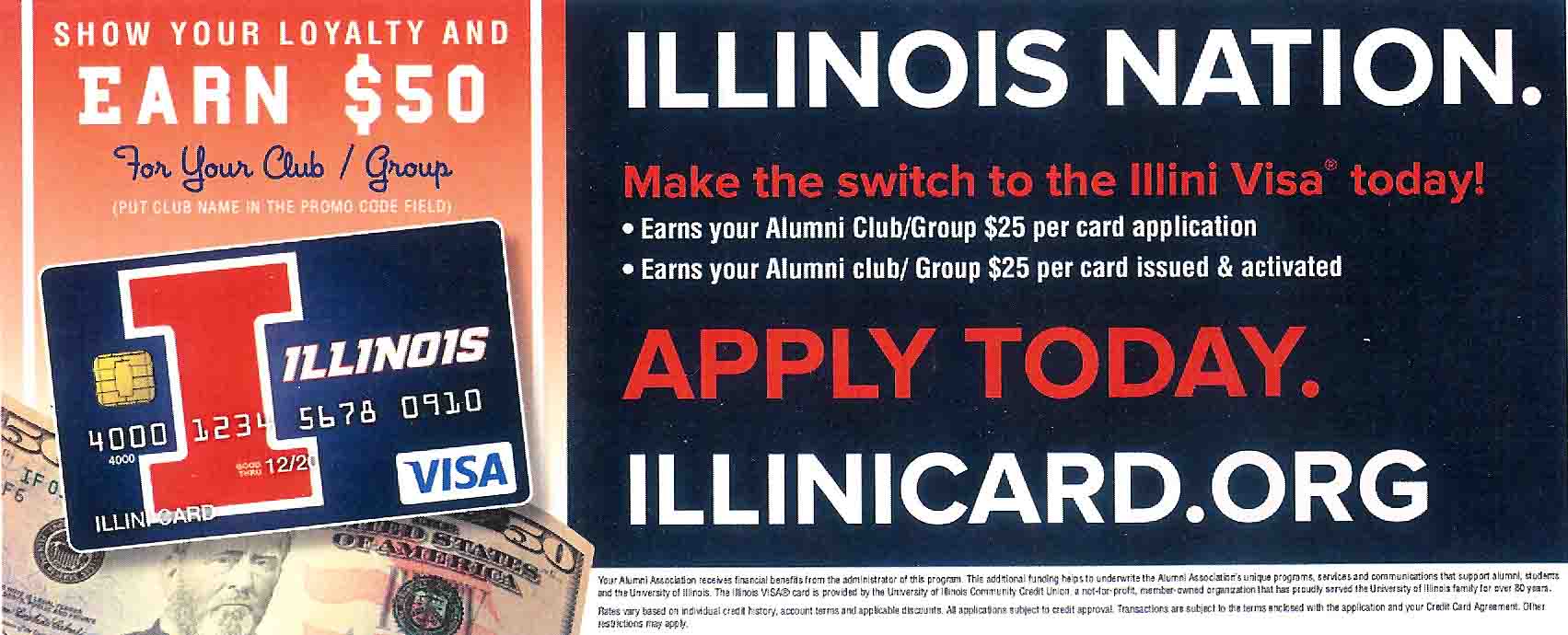 We look forward to seeing you at one of our upcoming events!
GO TUCSON ILLINI!!
Mike Bayers - President
Tucson Illini Club
520.572.7472